For years now, I have been working to find and explore all of the apps, programs, games and more that are used to treat strabismus (eye turn) and amblyopia (lazy or weak eye). When I first started 5 years ago, there wasn't much to write about, but the market is exploding with new exciting apps and programs. While I was at the annual COVD conference I discovered a few new programs that are next level and I'm excited to share them with my readers.
Today we are going to take a dive into the Our Visual Brain program and explore its greatness.
So what is the Our Visual Brain Program? It is an online platform with a doctor side where vision therapy activities, directions, worksheets and more are assigned, monitored and adjusted and a patient side where these things can be practiced from home. It contains a constantly growing library of over 140 different gamified vision therapy activities, over 50 worksheets, and videos with a vision therapist explaining how to do these activities at home.
There are so many details and I was lucky enough to be able to play with both the patient and doctor versions so this review is going to cover the perspective of a parent, patient, and vision therapist in using the program. If you are ready to jump in, head over to Our Visual Brain and get started with a free trial today.
Before we dive too deep, note that this program is not available to the public. It must be used through a vision therapy office. If you are ready to get started on your vision therapy journey, make sure to head over HERE for free resources and help finding an office!
Vision therapy has completely changed my life and I am an advocate for getting started sooner rather than later. It has helped my brain and eyes coordinate and it is incredible! Our Visual Brain is an appendage to in-office vision therapy that can help it be even more effective and fun!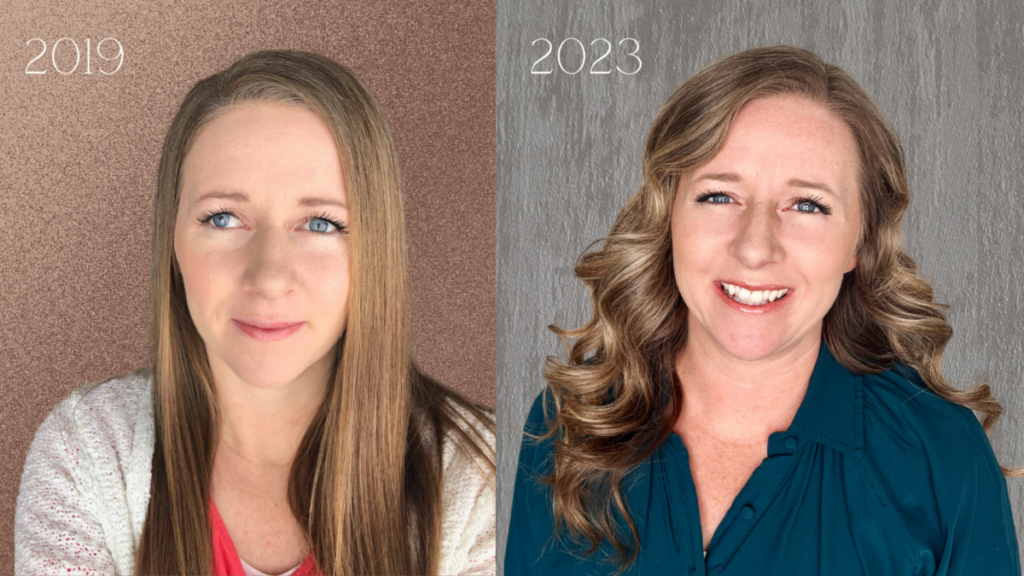 Basic Breakdown of "Our Visual Brain"
The program was created by a parent who was less than impressed by the home computer programs that were available to her son while he was in vision therapy. Jennifer decided to gamify vision therapy. She takes games that kids already love to play and tweaks them to make them perfect for vision therapy. She gathered a dynamic team of specialized optometrists and vision therapists that guide the creation of every game and worksheet giving feedback to make the program even better. Lisa Knopp is the experienced COVT whose face you will see in the informational videos.

Categories
Our Visual Brain has something for every diagnosis whether it's convergence insufficiency, accommodative dysfunction, strabismus, amblyopia, or a TBI. If vision therapy is required, then this program will have something to help.
You can search the activity database using the following categories:
Accommodation-Focusing
Information Processing (with 26 subcategories)
Letters, words, spelling
Math
Motor Skills
Peripheral Expansion
Tachistoscope Skills
Tracking Skills
Vergence Skills
Activities/Games and Settings
There is a huge variety of games, mazes, matching, search and find, memory, visual processing, all the good things, but within each game there are different settings to make it have more therapeutic value.
For example, in the game, "Beat the Clock," the goal is to match the shapes on the left into the chart on the right. The game can be played in this simple way, or the optometrist can choose to add a variety of different settings to challenge the patient. The colors can be changed to work for red/blue or red/green glasses, the number of objects can range from 4-25, timers can be added or removed, a metronome can be played throughout the game and the hole can be adjusted to three different sizes.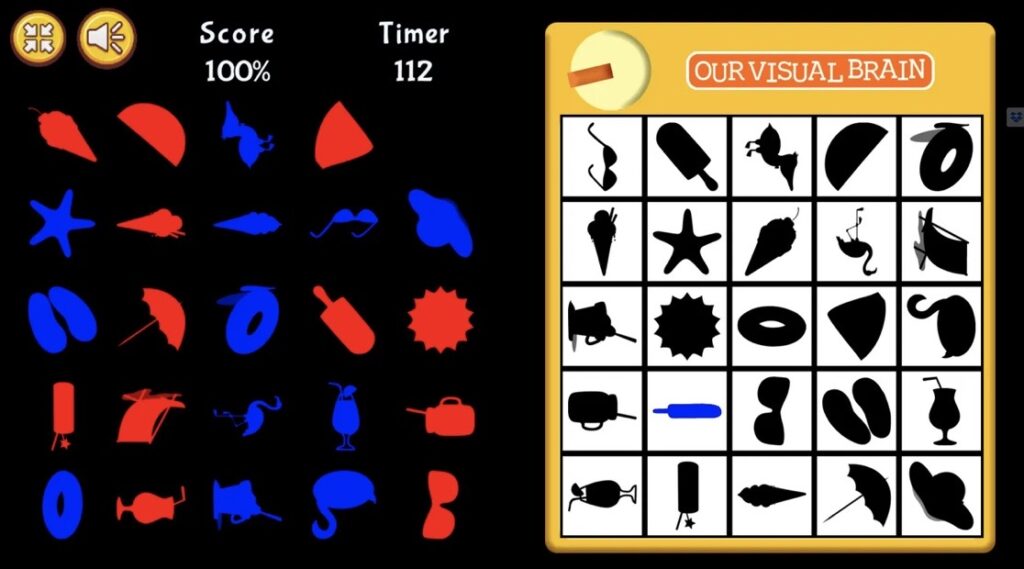 With the different types of settings, pretty much any game can be made into an effective vision therapy activity. I had my 5 year old daughter playing it and we increased her time and decreased the number of objects she needed to match. For me, I added the red/blue setting to engage both eyes, but gave myself plenty of time to relax and keep my peripheral open.
I love customizable programs!
There are also a few great vergence exercises. My favorite is "Vergence Base Protect."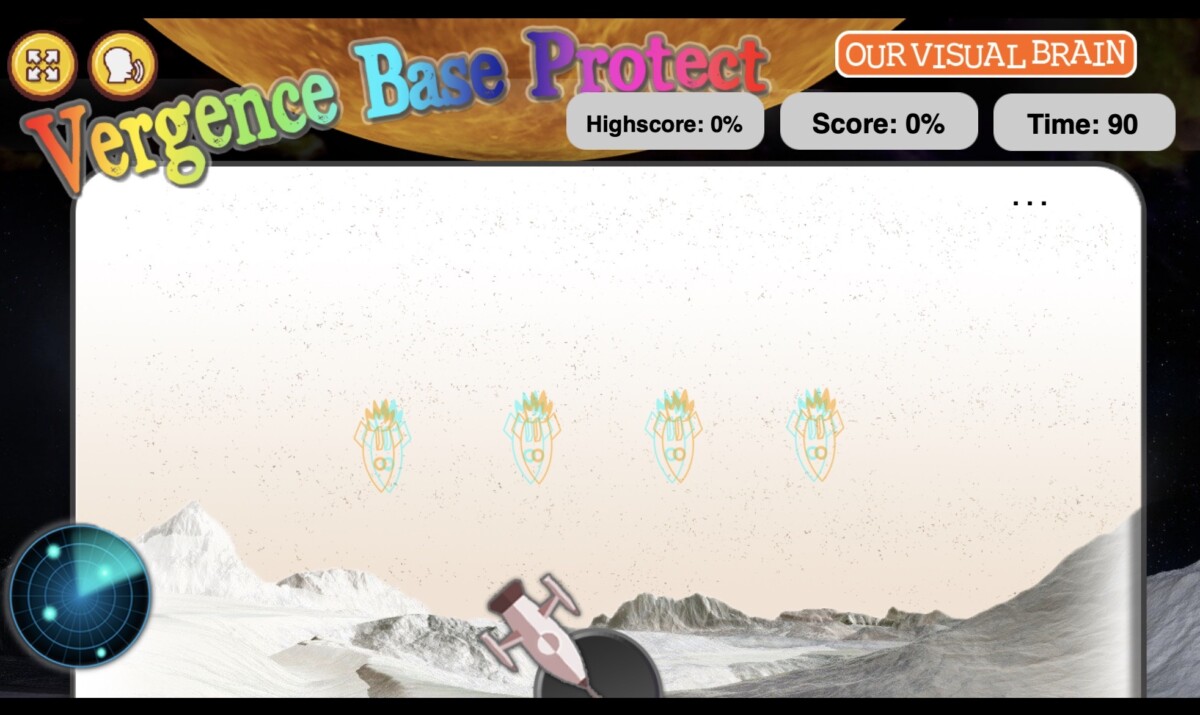 The game is played with red/blue or red/green glasses and the object is to click on the rocket that is closest to you or furthest away from you depending on the settings. It is great for helping with convergence and divergence. In the settings area it can be adjusted to work convergence, divergence, or it can jump between the two.
While this may seem boring as far as games go, this type of activity is going to really help the brain learn to see depth more effectively. I love these types of exercises whether it's a real life vectograph, computer images or in virtual reality.
For a full list of games and to see inside the program, head over to the Our Visual Brain website.
Worksheet Library
In addition to activities, there are multiple worksheets available for printing in office or at home. A vision therapy office may print out a collection to use during visits, but they can also assign individual activities to be printed and used as homework.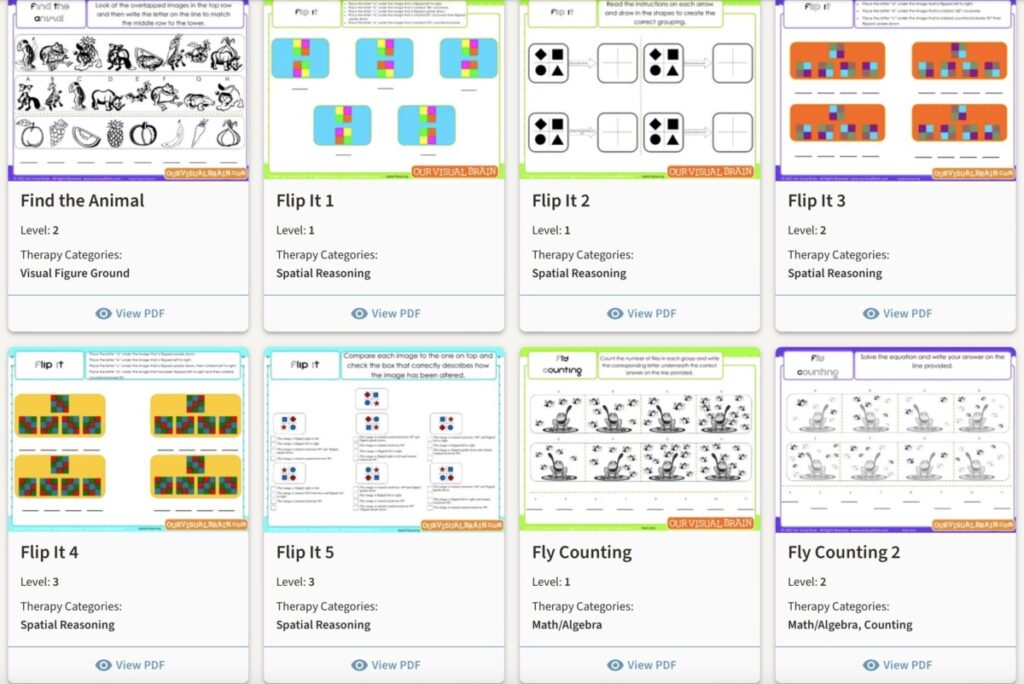 Some of the activities are pretty simple and made for younger children, but there were some that definitely presented me with a challenge! Especially the spatial reasoning ones.
You can also find Hart charts galore in all shapes, sizes, fonts, with letters, arrows, pictures, etc. You name it and it is in the library.
Video Library
The video library is great for at-home exercises when the parent or patient forgets what exactly to do. My husband is a physical therapist and uses a similar program in his office. Home exercises are SO important and beneficial, but if they aren't done correctly, it's not going to make a difference. Having a quick 1-2 minute video to remind the patient of how to perform the exercises correctly will make that at-home work much more effective.
The vision therapist or optometrist can add videos that describe and model the assigned exercises for the week. These aren't videos for computer based activities, they are for the real world and body movement and awareness type activities.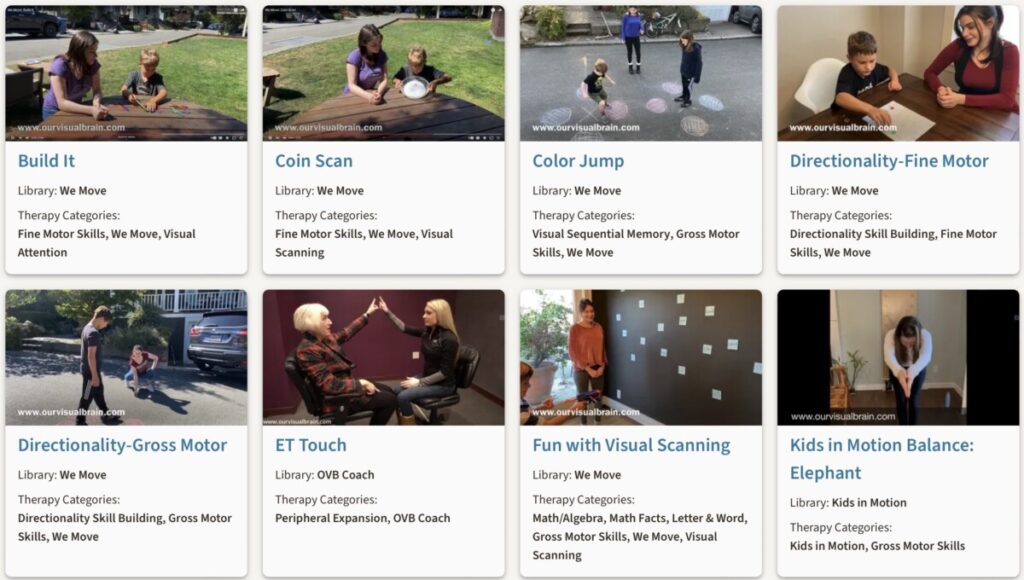 How to Sign Up for the Program
This program is only offered through an eye doctor, usually a developmental optometrist that specializes in vision therapy. The office purchases the program for in-office use for unlimited patients. They also have the option to add home accounts as needed for patients using the program for home therapy.
If you are the doctor, simply head over to Our Visual Brain and Jennifer will get your office completely set up. It is extremely affordable and can help the office function more smoothly.
If you are a patient wanting to use the program, reach out to your vision therapy office and see if they are willing to start using the program. You can also reach out to Jennifer and see if there are any offices in your area using the program.
The cost varies greatly because it is based on how many patients are using the program and how offices choose to offer it. The more patients in an office that are using the service, the cheaper it is per patient. Some offices simply lump it into the cost of therapy, others charge an added fee per month, but this is generally very affordable and in the $30-$50 range depending on the package they are using for their office.
I love that Our Visual Brain is creating an extremely affordable product that makes vision therapy more fun!
Different Perspectives
With any vision therapy program, there are pros and cons, the trick is finding the right program for you or your office. The answer will be different for each person.
Because I have a daughter in vision therapy, I am currently in vision therapy, and I was able to use the vision therapist and patient side of the program, I'm going to line how the program works and the pros and cons from the perspective each type of user.
Parent Perspective
Vision therapy can be SO incredibly challenging with a young child. Keeping them motivated and excited about exercises is truly so challenging, even with the best vision therapist in the world who keeps things interesting. From the parent perspective, this program is completely worth it, even for an extra $50 a month!
The program interface is super easy to use and my daughter could easily manage it herself and follow the directions. I like having the activities, worksheets, and videos all in one place.
There is a spot where we can message back and forth with the office which is super handy as well.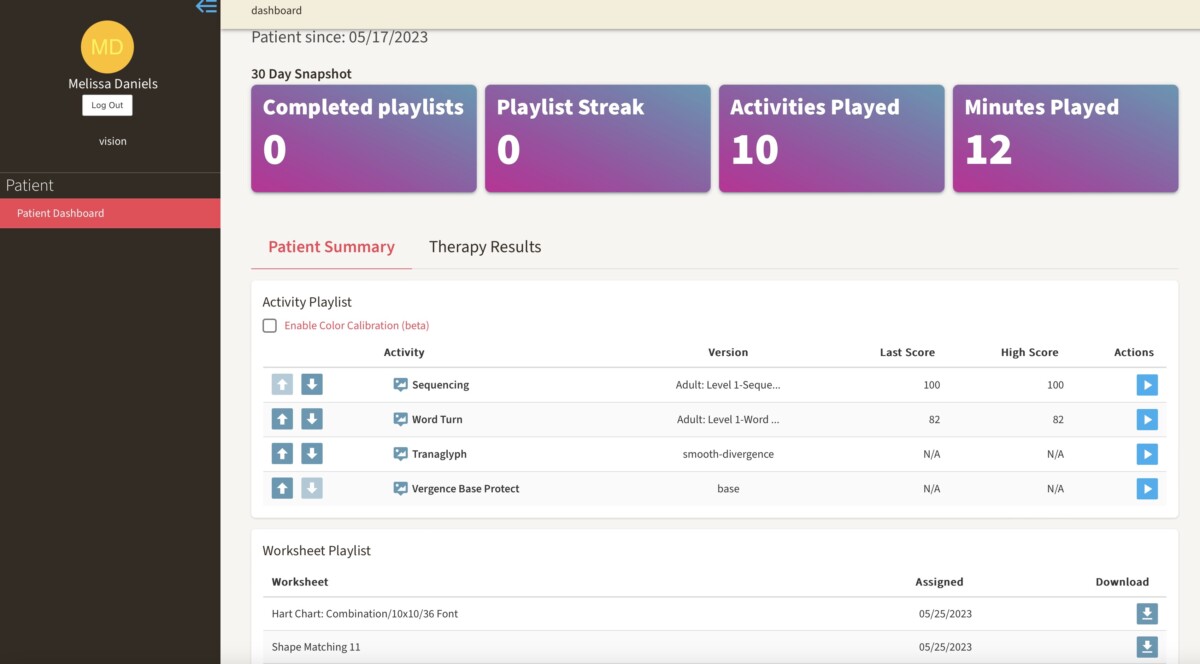 Pros
COMPLIANCE! My daughter loves the app and asks to do therapy with the program
I have my own login and the exercises are on the dashboard and easy to find in case I forget the assignment.
I can send a message to the therapist from the program and get clarification on exercises or symptom issues.
Cons
Adds to the cost of vision therapy
More screen time for my child
Patient Perspective
My daughter and I are both in therapy and have been doing some vision therapy through the Our Visual Brain Program. We really both liked it, especially Adeline who LOVES video games. I use it as bribery! She can only do the fun computer games (which are actually vision therapy exercises) after she finishes the open space homework first. SO much less whining.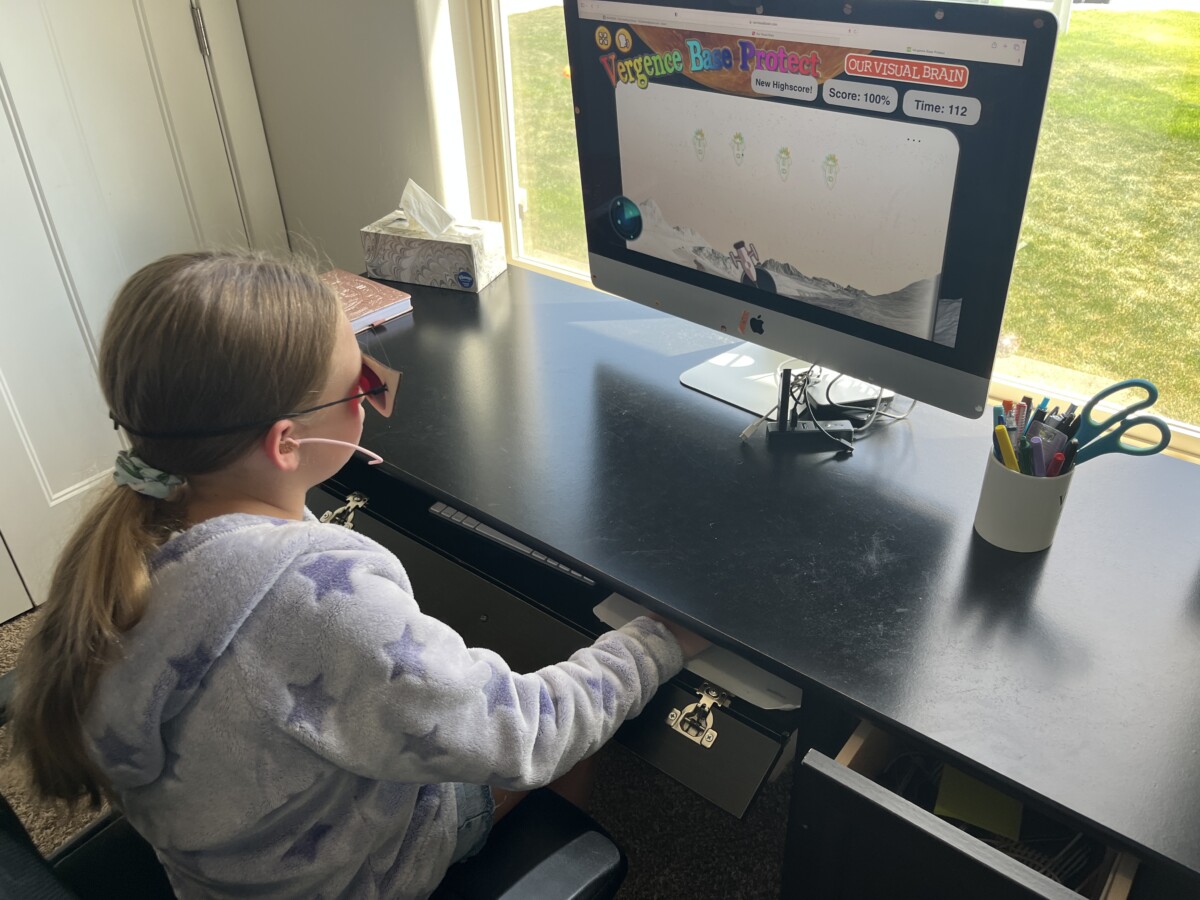 Pros
Huge variety of games so one thing doesn't become boring
The time passes so fast!
It's nice to have the metronome and timers built in so there is less to fuss with on each activity.
Videos explaining the activities are good for refreshing my memory
Can take therapy on the go with a laptop or iPad instead of bulky equipment.
Cons
I want more exercises appropriate for strabismus that include vergence, not just anti-suppression. There are definitely some that work the different skills, but I am all about the variety which they have for pretty much everything else. This isn't really a con, more of a suggestion.
Vision Therapist Perspective
I am not a vision therapist, but sometimes I pretend that I am one. I used the program as a pretend therapist and created a program for my daughter. We experimented with different settings and communication between "the office" and "home." It all worked really well and I was able to really understand how the program works.
The dashboard is very intuitive and I figured it all out in about 10 minutes. SO easy to use.
The screen shot below shows the dashboard. In green are the links for direct access to the activities, worksheets and videos for in-office use. In blue, you can quickly see each patient and which days they have done activities red-none, yellow-partial, green-all done. All of ours are red because I kept forgetting to logout the office version and login as the patient before starting. In yellow you can send direct messages to the patients.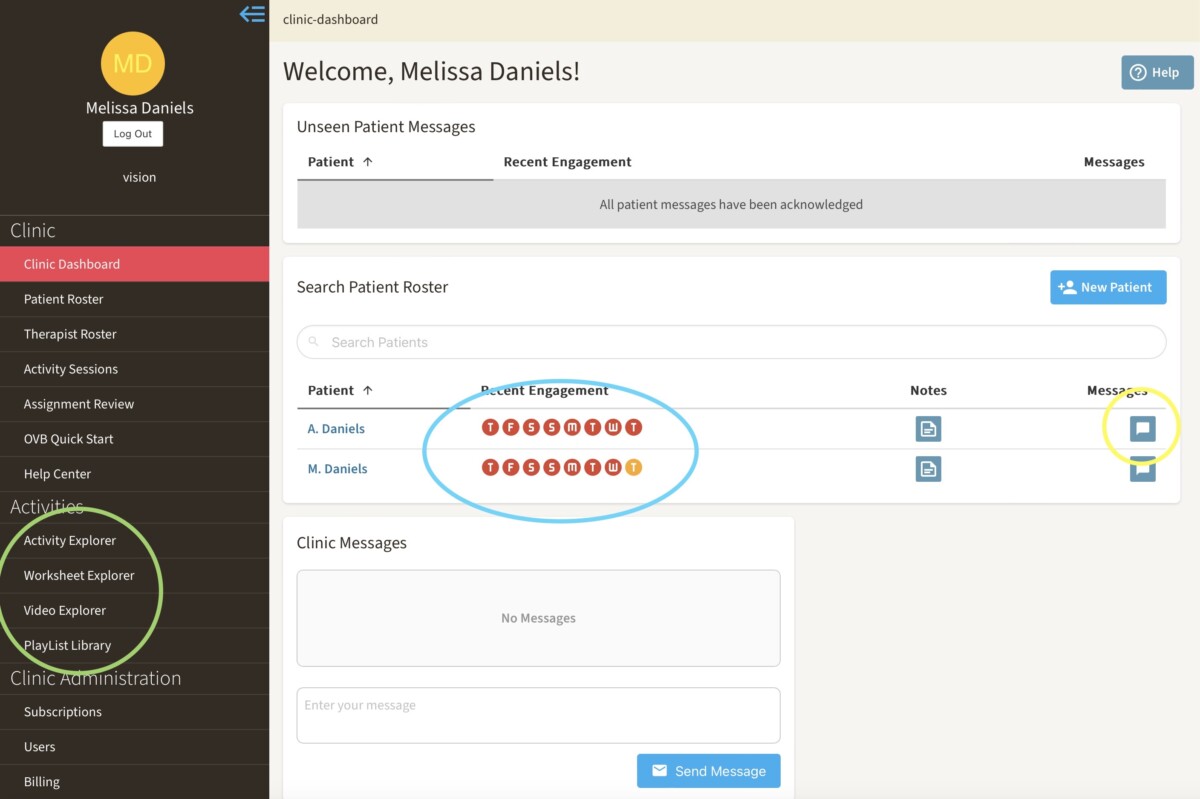 When you click on a patient you are able to easily customize their program by adding activities, worksheets or videos. There is a section for office playlists as well. It is so easy to use and very intuitive.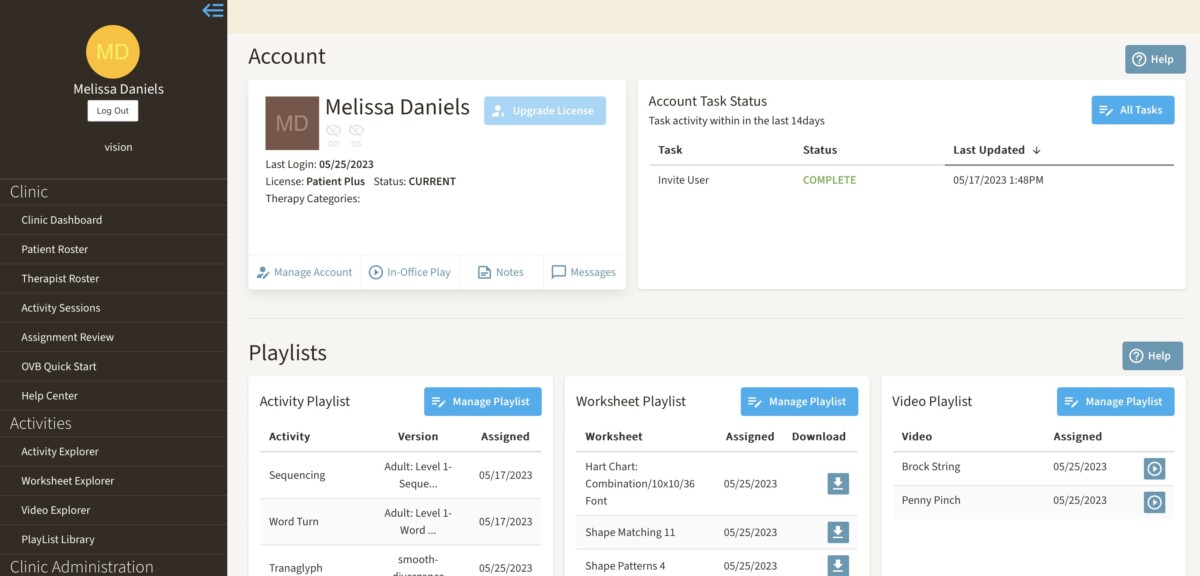 Pros
Compliance!
It is easy to monitor how much time was spent on each activity and if measurable progress is being made.
Huge library with a variety of activities, worksheets and videos that can be assigned with the click of a button.
It is easy to create lists of activities that can be saved and used for multiple patients when specific settings are used repeatedly for a certain diagnosis.
Flexibility with the cost. By charging for home accounts, the cost of the entire program can easily be covered and even generate an extra income stream.
Jennifer is very open to feedback and is constantly updating the program and even takes requests for new games!
Cons
I would like to see more variety in vergence activities, there are tranaglyphs, randot and flat fusion games, but even more variety would be nice to keep things interesting like she has done with other skills.
In the office, we use the touch screen which is great. At home they need to use the mouse which isn't as ideal for some activities.
If we have an activity that doesn't have a video in the library, I'd like to be able to upload my own with office-specific directions to send patients.
Conclusion
This program has SO many different activities to choose from, picking the right ones might be the hardest part. The good news is that the activities will not be boring with all that variety! It is very inexpensive as far as vision therapy programs go so it is definitely worth the investment!
Head over to Our Visual Brain and you can experiment with a free trial and see for yourself.
If you need help finding a vision therapy office, click HERE and I will send you recommendations close to you!