Strabismus Solutions
Discover your path to straight, high functioning eyes!

Get your questions answered without bias
Enjoy a customized consultation that will answer your questions without the usual pressure to choose a specific treatment at half the price of a doctor's visit.

Stop wasting money on strategies that fail
Strabismus surgeries and vision therapy cost thousands of dollars, Skip the guesswork and learn the ones that will actually work for you.

Find the Experts that will help you succeed
Get access to information for the specialists in your area that are experts in treating strabismus or lazy eye!

Understand diagnosis and find solutions
Learn why your vision is failing and come away with specific strategies that can help you reach your full visual potential.

Get answers now, no more waiting
Schedule a consult today, no more waiting for months for an appointment, only to be rescheduled or brushed off.

Gain the confidence you've been missing
Take control of your vision. No more looking down, it's time to look up to the future and get a step-by-step plan for your success.
You schedule an appointment and fill out the survey with information about your location, diagnosis and specific questions you have. Then return to your busy life, until our zoom appointment where you will receive answers.
Meanwhile, I'll be compiling answers to your questions and using my unique resources to find the perfect specialists for you in your area. You will receive the information live in a 45 minute zoom call as well as by email.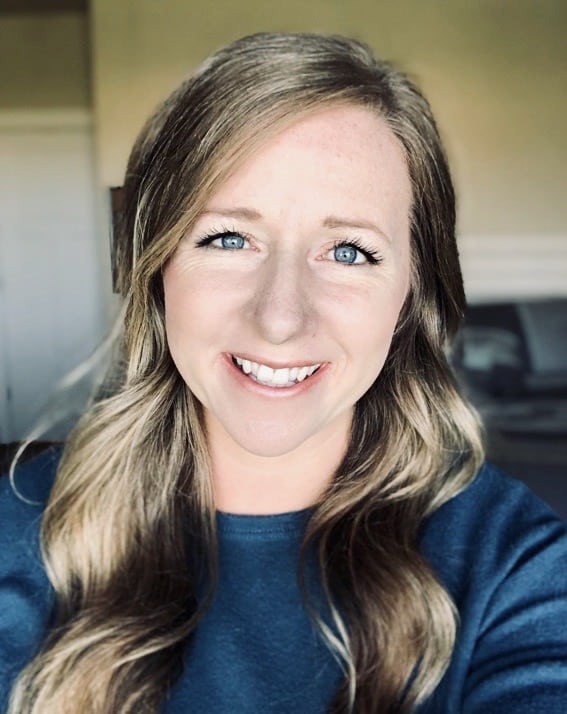 Still Not Sure?
After the consultation you will receive 30 days of email support for clarification on anything we discuss or for any new questions you discover.
I've got you covered!
Frequently Asked Questions
Do you do consultations for parents with children who have vision problems? Absolutely! My expertise lies in strabismus and that goes for adults and children! Strabismus is easier to fix in children so hats off to you for being so proactive. Let's get your child set up for their ideal future!
Will you give me an eye exercise program to fix my lazy eye or strabismus?
No, this is a consult to help you determine the professionals that will help you treat your vision, I do not offer an exercise program, but if you are in vision therapy, I am happy to give pointers and tips to help you progress!
Are you going to just recommend vision therapy?
Nope, not for everyone. It depends on your goals, history, and diagnosis. Sometimes there are other steps I recommend taking first to build a strong foundation, and other times surgery is the answer.
Testimonials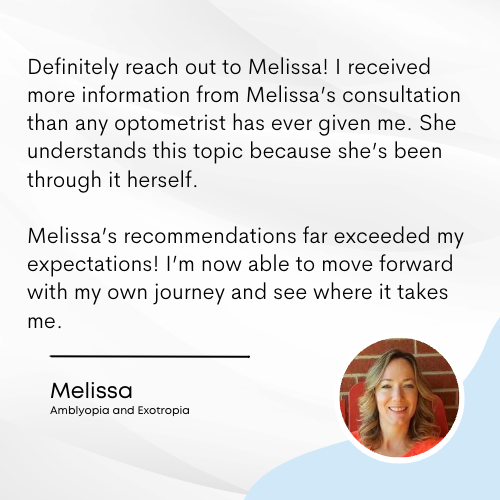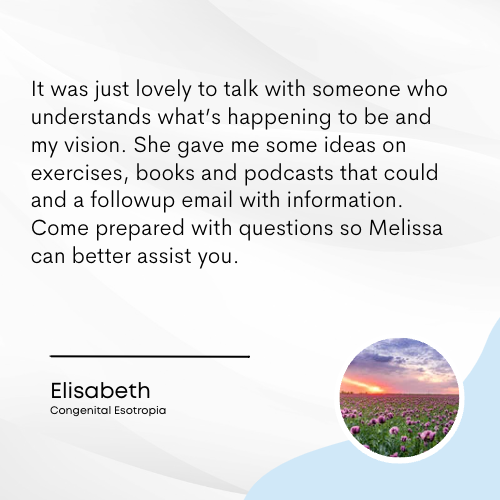 Questions? Email melissa@strabismussolutions.com